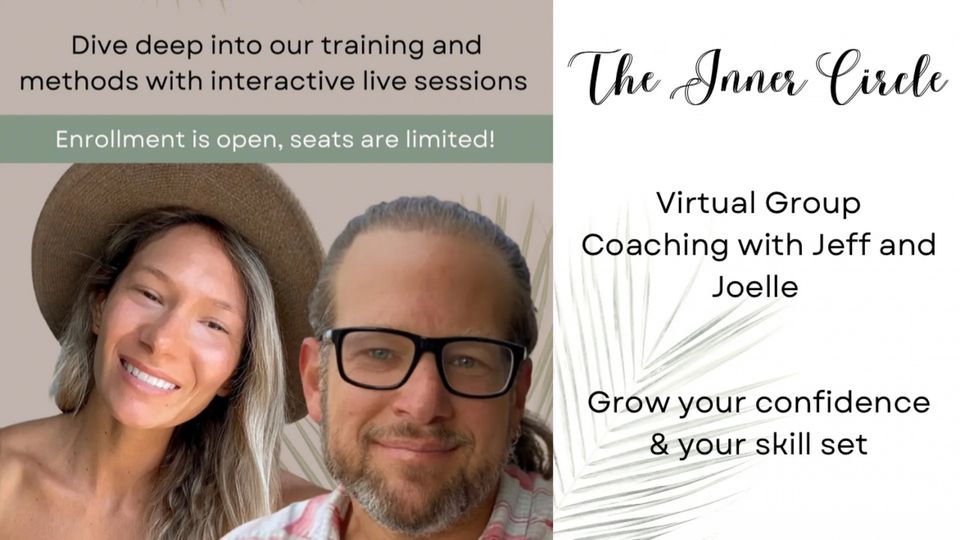 About
The four-week, immersive Inner Circle With Jeff and Joelle is now open for enrollment. It's THE program to learn how to build a better relationship with your dog and take your training skills to levels you never imagined. 

Whether you're a new dog owner, an experienced one, or even a seasoned dog trainer, this program is the place to get continued support from Jeff and Joelle of Solid K9 Training.
Are you ready to finally stop struggling and step into full confidence with your dog and your skillset?
The Inner Circle will teach you how to:
Troubleshoot any and all issues you may be having with your dog's behavior

Build a better relationship with your dog (and/or client dogs) through straightforward and easy-to-follow LIVE virtual trainings with Jeff and Joelle

Develop a better understanding of remote collar work and basic obedience training

 

STOP leash reactivity and our "secrets" to stopping this behavior

Grow your dog training skills and your confidence to set you up to succeed in your personal life and/or business
This online course is interactive and seats are limited. This class is only for those who have already purchased the Green to Graduate and/or Leash Reactivity Courses. 
The Inner Circle runs for a four-week period with one live group class each week. The meeting will be hosted on Zoom and can range anywhere from 1-2 hours. Class begins March 6th at 7:00 pm EST.
We will have you submit videos and questions to us, and homework will be assigned between our meetings. 
This class is for you if you are ready to show up, do the work, and participate in a program that will change your life way beyond just dog training.
This class is not for you if you expect quick fixes and/or no effort on your part.
The true key to success when it comes to dog training is the human on the other end of the leash. We want you all to WIN, personally and professionally. There's a seat with your name on it, but remember, enrollment is limited!
***Be sure to sign up for the first class starting Feb 10th to reserve your seat! 
***This will be a series of 4 live trainings, with Zoom links being sent out prior to each class once you register. The class schedule is as follows:
Monday, March 6th - 7pm EST
Monday, March 13th - 7pm EST

Monday, March 20th - 7pm EST

Monday, March 27th - 7pm EST

What our past students have to say about their experience:

"I would recommend this course to everyone! Jeff and Joelle are so knowledgeable, supportive and personable. A very valuable experience, and I am grateful for the opportunity to be a part of it!" -Julie S.
"We had the best two walks today using the new methods on Zoe. We used what you told us and we are getting there, game changer! Thanks for the help and the videos." Jared B.
"Your training videos were once again awesome. They addressed exactly the issues I need to overcome and were so clear. Thank you!" Carol G. 
"I just did the Inner Circle with Jeff and Joelle, and what I can tell you is if they run this program again, just SIGN UP! It is awesome! We (myself and 5 other people) talked about dogs, dog training, dog business, and personal development. So to me, there was just tremendous value in spending that time with Jeff, Joelle and the group each week." -Ed F. 
We can't wait to see you there!


Ecollar Intro (Topics we can cover in-depth in these sessions)