Live E-collar Workshop - TROUBLESHOOTING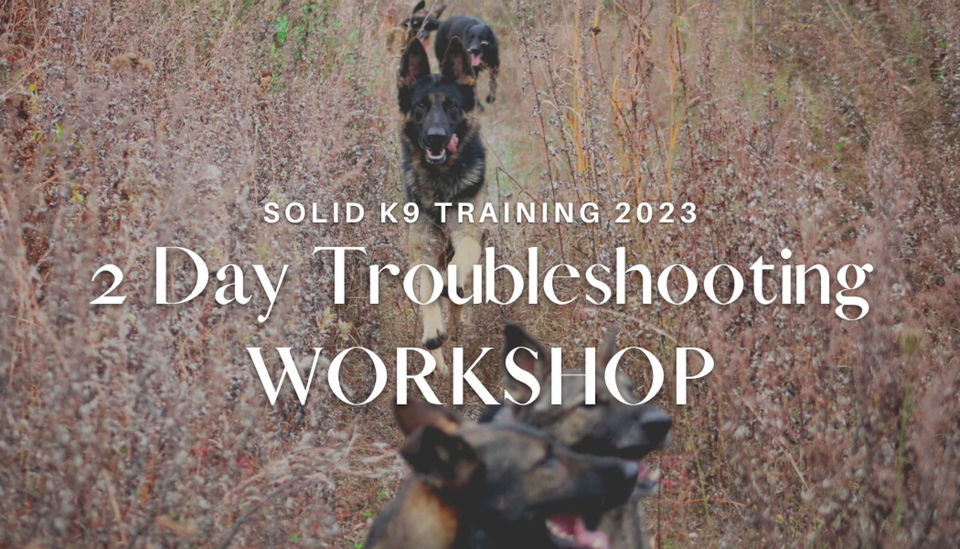 About
Are you ready to take your E collar training to the next level?
Maybe your dog is currently e collar trained, or you're just getting your toes wet with this method...but you can't seem to get over some hurdles that keep cropping up. 
Maybe you feel like you are always second guessing yourself and feel like you're repeating the same training sessions over and over. 
Well, imagine if all those problems could be solved. Imagine yourself running your dog off leash, through the woods, on the beach, wherever your heart calls you to go. 
This is what's possible when you join me for a live E Collar TROUBLESHOOTING workshop
The best years of your life with your dog are on the other side of the checkout button, and I cannot wait to show you how much is possible. You and your dog deserve this. 
Are you ready to finally achieve that fully trained dog? 
The doors to to this live workshop are open for a very limited time...
Join me for 2 days and watch how I bring a well trained dog to an OFF LEASH trained dog. We will be covering a LOT in these couple of days. Everything from how to bring a dog up to corrections on the remote collar to advanced drills to sharpen obedience.
Here's What You're Getting:
-2 LIVE 60-90 minute virtual Zoom sessions ($375 value)
-My process for bringing dogs from reliable to OFF LEASH reliable
-Creating distance and duration with commands
-Proofing all commands under HIGH distractions
-How we teach dogs to be calm on command
-Lifetime access to the course 
- Open Q+A with me ($250 value)
Your Investment: $97
Recordings will be sent to you if you can't make it live!
What our students have to say...
"It was a fantastic experience and I am looking forward to putting all of the information to work! If there is another one this year, I may even go back!!" -Maggie W.
"Yes. Absolutely! My dog was on her last chance and last stop. She is becoming a super start and is rocking it better by the day. Thank you for all that you do!" -Keith H.
"Your online training and Q+A's have been a tremendous lifesaver for me and my dog. I've been applying what you teach and it WORKS!" -Barbara A.
"The training Jeff provides in his videos is really good and easy to follow. Jeff always does a good job at showing the humans how to work with their dogs in a safe way the dogs understand and that works. Thanks so much for helping all of us!!" -Sandi O.
"Everyone RUN to get this course! This training completely changed my relationship with my dog. No other training has had this fast and lasting of an impact. THANK YOU Jeff and Joelle!" -Crystal B. 
"You have CHANGED OUR LIFE with the e-collar! 7 month old great dane after just a few weeks, CRAZY without it...focused on me so much more and polite and calm in the house with the training." -Veronica A.
"Y'all are amazing and have changed mine and my dog's life for the better!" Amanda K. 
The "Place" Command (a  few small excerpts of what we will cover in the Live workshop) 
Get In Here! Register Now!